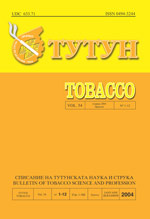 pdfs/vol 61 7-12 2. 86-94p.pdf
INDICATOPRS OF PURCHASED QUANTITIES OF TOBACCO TYPES IN THE REPUBLIC OF MACEDONIA
Snezana Stojanoska
University"St.Kliment Ohridski"-Bitola, Scientific Тobacco Institute-Prilep, Kicevski pat,bb,
Republic of Macedonia, e-mail: snezana.stojanoska@yahoo.com
ABSTRACT
Purchase of oriental tobacco types Prilep, Yaka, Djebel and Basmak were analysed by
purchase grades and their values. Investigations were carried out in 2006, 2007 and 2008. In the

purchase structure, tobacco type Prilep has the largest share ranging from 56.20% in 2008 to 65.82% in 2006. The share of Yaka is somewhat lower (25.68% in 2006 to 27.70% in 2008). Tobacco type Basmak has the lowest share, ranging from 8.5% in 2006 to 15.81% in 2008. The highest quantities of purchased tobacco by grades was of the II and IIIA grade. The average purchase price ranged from 118.14% denars/kg in 2006, 140.57 denars/kg in 2007, up to 167.42 denars/kg in 2008. The total

quantities of purchased oriental tobacco were as follows: 19.681.162,3 kg in 2006, 16.288.439,7 kg

in 2007 and 16.126.379,1 kg in 2008. The purchase of additional tobacco was symbolic in the three years of investigations.
Key words: tobacco, Prilep, Yaka, Djebel, Basmak