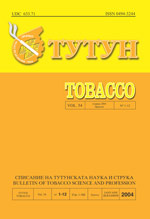 THE INFLUENCE OF SECONDARY TILLAGE ON SOILCOMPACTION AND THE YIELD OF FLUE CURED TOBACCO

Ivan Turšić

1

, Milan Mesić

2

, Ivica Kisić

2

, Stjepan Husnjak

2

1

Tobacco Institute Zagreb, Svetošimunska 25, 10 000 Zagreb, Croatia. E-mail: itursic@agr.hr

2

Faculty of Agriculture, University of Zagreb, Svetošimunska 25, 10 000 Zagreb, Croatia

ABSTRACT

During 2005 and 2006 a research has been carried out on the effect that application of chisel

had on the flue-cured tobacco production. The research has been carried out on luvisol in the field experiment performed on the experimental field plot of Tobacco Institute of Zagreb at Pitomača. In addition to the classical tillage practices (ploughing in the autumn + soil preparation in the spring) during the spring tillage and tobacco planting preparation chisel was used. During the vegetation period, the soil was hoed up manually (I), loosened with the cultivator (II) and with chisel between tobacco rows (III). The electronic penetrometer was used for measurement of soil resistance during tobacco flowering period. The tobacco was picked six times and after the lust harvesting and fluecuring the leaf yield was determined. All data wере processed with the statistical variance analysis. The soil resistance was lower and the tobacco yield was higher where soil was tilled with chisel as compared to the conventional soil tillage practices in the tobacco production.

Key words: tobacco, soil tillage, bulk density, tobacco yield.