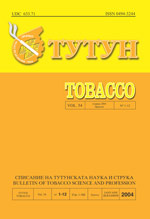 STUDIES ON ТHE INHERITance of THE NUMBER OF LEAVES IN the CROSSES of virginia TOBACCO (NICOTIANA TABAC UM L.)

Yovko Djulgerski

Tobacco and Tobacco Products Institute-Plovdiv 4108 Markovo, Bulgaria

e-mail:yovko_dulg @abv.bg

ABSTRACT

The character and extent of the genetic interactions were determined by applying

hybridological analysis as well as by the number of genes differentiating between the initial parent forms and expressions of heterosis and transgression referring to the character number of leaves,the objective being the selection of desired genotypes in siх hybrid Virginia tobacco populations, including the best introduced varieties from the USA. The results of the survey of Р

1, Р2, F1 and F2

proved that the character number of leaves in Virginia tobacco crosses is inherited overdominantly,

always in the direction of the parent displaying a higher value of the character. The number of genes influencing the manifestation of the studied character which differentiated between the parents varied from 1 to 12. The strongly pronounced positive epistasis reinforces the phenotype expression of the

character "number of leaves per plant". Significant positive heterosis was observed in 3 of the crosses.

The high values determined for the inheritance coefficient and for effective mass selection of phenotypes show that the selection of genotypes characterized by higher number of leaves will be

more effective in the sooner hybrid generations.

Key words:

Virginia tobacco, genetic analysis, inheritance, hereditability, transgression, heterosis.